Chris O'Malley, Indiana Business Journal
December 1, 2012
Greg Wagoner sat in the sanctum sanctorum of Wabash Valley Power Association: a conference table encircled by framed photos of electric generating plants from which the co-op generates or buys its power.
Staring directly at him was an Architectural Digest-worthy photo of Wabash River Unit 1.Bought by the cooperative six years ago, the Terre Haute facility converts coal to synthetic gas that's burned to generate up to 262 megawatts at any given time.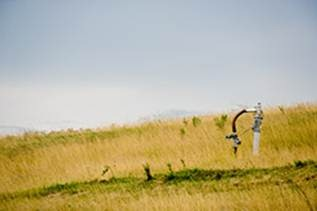 It's not your grandfather's coal-fired facility, but it's still coal.
Thus from Wagoner's lips—an utterance of unspeakable blasphemy against the bituminous coal god venerated by Indiana's electric utilities:
"I'll take 300 megawatts from [cow manure] digesters, any day … Nothing against that," of course, he said, nodding his head at the photo of Wabash Unit 1.
At some Indiana utilities, such a heretic would be cast out, defrocked from the religion of relatively low-cost coal.
But the vice president of business development at Wabash Valley has the blessing of his board, which has been committed to reducing coal dependence over the last five years.
One driver: tightening federal pollution standards requiring expensive coal-plant upgrades. Plants that convert coal to synthetic gas alleviate some of that expense, but the plants themselves are costly, thus the focus on renewables.
Indianapolis-based Wabash is also mindful of renewable generation's potential to benefit the rural communities that use its power—some 380,000 homes, farms, businesses and industrial plants.
Wagoner just returned from a tour of Germany, where rural areas now sport solar panels, wind turbines and animal-waste digesters throughout the countryside.
Germany has enacted a federal renewable energy policy that's resulted in more decentralized power generation—and an estimated 20 percent output from renewables. Upwards of 365,000 jobs have been linked to such generation.
Wagoner
Wagoner traipsed through German farms, where animal waste is fermented into methane. He visited Germany's parliament, where he spoke with political leaders about that country's successes in renewable power.
But the trip wasn't a baptism into renewable power for Wagoner or for Wabash Valley Power, which for years has had perhaps the most eclectic source of renewable power sources in the state.
Small steps
In 2004, the co-op that provides power to 26 distribution systems in Indiana, Illinois, Missouri and Ohio began making electricity from landfill gas.
Last August, it dedicated the 14th such facility, this one at Waste Management of Indiana's Twin Bridges Recycling and Disposal facility, in Danville.
Two, 20-cylinder engines made at Caterpillar's engine plant in Lafayette burn enough Twin Bridges landfill methane to generate about 3 megawatts.
In all, Wabash has the capacity to produce 43 megawatts of landfill gas generation.
In 2006, Wabash started harvesting methane from dairy farms, specifically from Fair Oaks Farms in Jasper County. Animal waste is placed into digesting vessels, with some germs added to accelerate decomposition. In 30 days or so—voila!
Wabash has power purchase agreements for 5.3 megawatts of power from dairy digesters.
If this doesn't sound like your typical power company, it's not. Try to name another utility around here where executives use power equivalent formulas such as: "3,500 head of cattle = 1 megawatt."
That's enough power for roughly 1,000 homes.
Despite such unconventional generation, power produced from animal waste and landfill methane—along with 39.4 megawatts available from wind generated in Iowa and Illinois contributes only 5 percent to 6 percent of Wabash's overall capacity.
Still, that total has helped achieve what the power co-op said is a dramatic reduction in its reliance on coal: to 54 percent of the fuel supply from 95 percent five years ago.
The goal for 2013 is to reduce coal's share to 50 percent.
Some of Wabash's non-coal generation is not from renewable power. For example, about 6 percent of its power comes from nuclear energy produced in Michigan. Old-timers will recall that Wabash Valley was committed to buying power from the controversial Marble Hill Nuclear Power Plant downstate, which then-PSI-Energy canceled in 1984 after cost overruns.
Natural gas is another source of non-coal fuel, and it represents a share that's been growing as the price of natural gas has plummeted.
"Natural gas has saved our lunch," Wagoner said.
Love from environmentalists
"Wabash Valley Power is less coal-heavy than other Indiana utilities, and it's good they are planning to move forward by adding [additional] diversity to the mix, instead of moving the wrong direction like [Indianapolis Power & Light]," said Megan Anderson, a "Beyond Coal" campaign field organizer for the Sierra Club.
That a utility's fuel of choice is becoming more of an issue was on display Nov. 28, when the Sierra Club led a protest at IPL's downtown headquarters. The group criticized IPL's plans to spend $600 million on upgrades at its coal plants over the next decade, money Sierra Club would like to see spent on adding wind and other forms of renewable generation, instead.
IPL points out that it already purchases power from wind turbines and is growing its renewable-energy portfolio.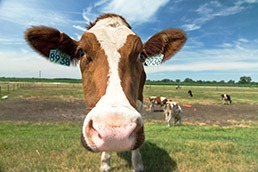 Waste from cattle at Fair Oaks Farms makes
electricity.
(Photo courtesy of Wabash Valley Power Association)
"IPL is now one of the top 20 utilities in the nation for wind energy with just over 300 megawatts of wind generation available, equal to about 7 percent of our total generation," IPL said in a statement.
IPL also said it is likely to be "the leader in the Midwest" related to solar-sourced power, assuming projects proposed by solar farm developers are completed.
While IPL has continued to diversify its generation portfolio, it's also proposed replacing some of its coal units with cleaner-burning natural gas turbines.
"Having highly reliable base load generation is imperative and coal and gas continue to be the best sources for this type of generation," the company said.
Natural gas is relatively cheap at the moment, thanks in part to extraction through shale fracking that's opened up vast amounts of natural gas.
Environmental groups haven't warmed up to fracking, however, which they say can contaminate aquifers and cause other damage.
Anderson said it would also benefit ratepayers of Wabash and other utilities to take advantage of additional wind energy, as costs have fallen, which would create additional jobs as the industry grows.
But Wagoner, who started his utility career in 1981 with PSI Energy (now Duke Energy), will be the first to tell you renewable forms of energy can be more costly, at least initially.
In fact, during his trip to Germany as part of the "25 by '25 Alliance," a group seeking to meet 25 percent of the U.S. energy need from renewables by 2025, he learned that Germany's much-heralded national renewable program carries a cost for residential ratepayers.
In the United States, electricity costs about 12 cents a kilowatt hour, compared with Germany's 36 cents.
"Here's where you have to be careful what you wish for," Wagoner said. "It doesn't come cheap."
Renewable's long-term costs
He's buoyed by Germany's example, nonetheless.
For one thing, the European country set up a system in which generators of renewable energy are assured of receiving payment from utilities for their power over about 20 years. That means communities wanting to install digesters, solar panels or other such units are more likely to get banks to finance those projects.
Renewable power developers in this country often struggle to get long-term assurances from utilities that the power they generate will be purchased at attractive rates.
Perhaps Wagoner's most significant takeaway was the realization that, once upfront capital costs are paid off—say in 10 or 20 years—renewable generation is more economical given that the cost of sunshine, wind and animal waste is zero.
In the United States, the outlook tends to be myopically focused on the first five years or so of cost, Wagoner said.
Of course, he conceded that the power cooperative has the flexibility to tinker with renewable options because it's not under as much pressure as investor-owned utilities to provide a return to shareholders.
On the other hand, Wabash cannot afford to go full tilt into renewables, either, if only to be cost-competitive and to not excessively burden ratepayers.
Its wind power source currently has about a 30-percent premium over coal given that wind turbines generate on average only 35 percent of the time due to the intermittent nature of wind.
Animal-waste digester costs are about 10 percent higher, although he expects that to reach parity with coal over time.
So far, the best economics come from landfill gas generation, the cost of which has been offset partially by millions of dollars in federal Clean Renewable Energy Bonds used to finance the projects.
So Wabash's strategy toward renewable energy will be to continue to incrementally add small amounts of such generation in coming years. They should be cash cows once the upfront capital costs are paid down.
"It's still at a cost, but it's better to do it over time and roll those things in year after year," he said.
What's next on the horizon?
"We believe now is the time to be looking at solar because the cost has come down so much. The fuel-cost component is zero," Wagoner said.
Kathy Schembs Joyce, vice president of administration at Wabash, said renewable power could present economic development benefits to the communities using its power. She also noted that many corporate customers have mandates to use such power, and that some make decisions on where to locate based on renewable power availability.
Some of those customers are also scheming how to turn their waste byproducts into power that they hope Wabash might be interested in purchasing.
Wagoner remembers a call from one firm that wondered about using foam rubber as a fuel.
"There are probably two or three calls a month we get in terms of turning waste products into electricity."
Some of the ideas leave him scratching his head, he said, noting that Wabash is not a research and development lab. But in a few years, he tells the callers, who knows? Their idea might be cost-effective.
The Wabash River Unit 1 he blasphemed earlier is safe, however, as reliable base-load generation is something neither wind nor solar can guarantee.
http://www.ibj.com/wabash-valley-power-aggressively-shifting-to-greener-alternatives/PARAMS/article/38232