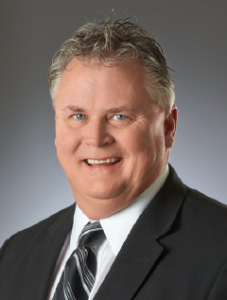 Greg is Wabash Valley Power's Executive Vice President of Stakeholder & Government Relations, and a graduate of Indiana University's Kelley School of Business where he received a bachelor's degree in business management. Greg began his electric utility career with PSI Energy in 1981 at Gibson Station, and has held various positions in the power production, generation dispatch, and wholesale marketing areas of the industry.
After the PSI Energy merger with Cincinnati Gas & Electric in 1992, Greg helped form Cinergy Marketing & Trading, holding various positions in the regulated and non-regulated business groups. In 1998, he moved to Constellation Power Source, Inc. as vice president of origination. During this time, Greg secured funding from Baltimore Gas & Electric to develop 3800 MW of gas-fired combined-cycle and peaking generation that went commercial in seven states. He also gained first-hand experience in financial trading, risk management, and hedging while working with the joint venture between Goldman Sachs and Constellation.
Over the past 12 years, Greg has had responsibility for the G&T's growth opportunities, demand-side management, green power initiatives, power supply portfolio management, federal and state legislative and policy programs, and wholesale supplier negotiations. As a member of the senior leadership team, Greg also represents Wabash Valley Power on several board committees, and in 2013 led the strategic planning process with the G&T's board of directors. Greg isn't always working though—in his free time you can find him playing golf or refereeing basketball games.