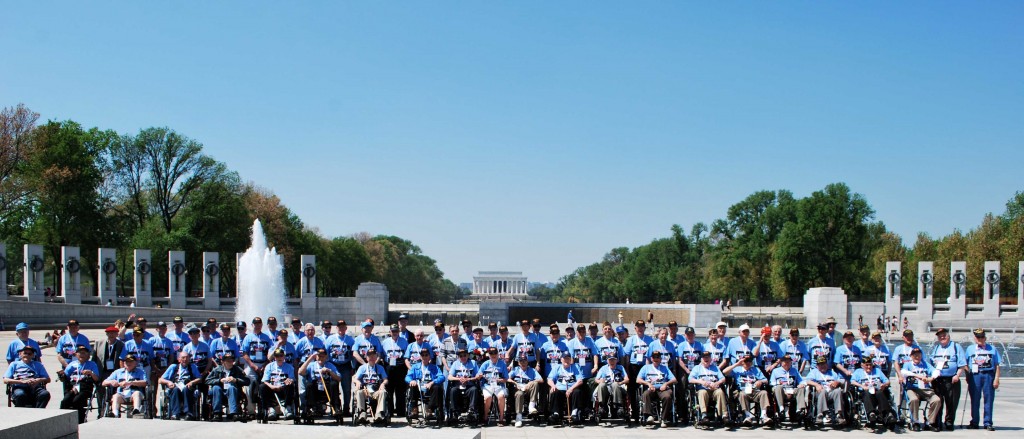 It's a widely held precept that the veterans who fought for and preserved our freedoms during World War II are our 'greatest generation.' And as a volunteer with the Greater Lafayette Area's inaugural Honor Flight earlier this week, I feel as though I've witnessed moments that can never be re-created.
On Monday morning at 6 am, 81 veterans of WWII, along with their Honor Flight Guardians for the day, assembled in a hangar at the Purdue Regional Airport.  With the sounds of the Purdue band helping to energize the group, breakfast was served, IDs were checked and everyone passed the security checkpoint.  And then the moment that had been nearly a year in the making arrived … it was time to board the plane and take off for a whirlwind, day-long trip to Washington, DC.  As the Miami Air charter, a Boeing 737, lifted off the ground, the plane erupted in applause.
For most of the veterans, the trip marked their first visit to the memorial that opened in 2004 to honor their service and untold sacrifices during and after WWII.  For some, it was also their first travel by air.  For all, it was a day filled with great emotion.
The Honor Flight Network's mission is to transport America's veterans to Washington, D.C. to visit those memorials dedicated to honor their service and sacrifices.  The trip is fully funded, through private donations and fundraising, with no cost to the veterans.
Four of Wabash Valley Power's member cooperatives supported the flight by covering the cost of a veteran, and in some cases, a guardian.  Jasper, Kankakee Valley, Parke and Warren County REMCs publicized the program through their newletters and selected a member to send on the trip.
Greater Lafayette Honor Flight has plans to send two additional groups to DC yet this year.  The trip includes visits to the WWII Memorial, the Lincoln, Vietnam and Korean Memorials,  Iwo Jima and Arlington National Cemetery.
Wabash Valley Power's member cooperatives are located within six Honor Flight hubs: Greater Lafayette, Northeast Indiana, Indy Area, Land of Lincoln, Central Illinois and Greater St. Louis.  Monday's flight represents the first of 2012, with all hubs planning one or more flights throughout the spring and fall.