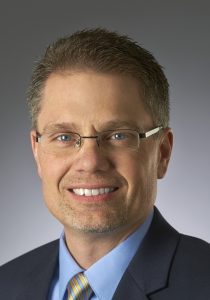 Jeff Conrad came to Wabash Valley Power in 1999 and served for 4 years as the Corporate Controller. In 2003, he was named Chief Financial Officer and in 2016 he was promoted to Chief Operating Officer.
As COO, he is responsible for the overall financial management of the organization, including the controller's office, financing and capital market strategies, credit/counterparty risk management and regulatory interaction with state and federal commissions. Additionally, he oversees both wholesale rate strategy development and power supply load forecasting and modeling. He serves in the role of Assistant Secretary-Treasurer for the Wabash Valley Board of Directors. Jeff is the Secretary-Treasurer for the organization's two wholly-owned subsidiaries, SG Solutions and Wabash Valley Energy Marketing. He is a member of the Wabash Valley Enterprise Internal Risk Management Committee and Tracker Committee and serves as the executive staff liaison to the Wholesale Rate Committee. Nationally, Jeff serves on the Generation & Transmission Finance Committee.
Jeff came to Wabash Valley Power from Cinergy's Energy Commodity Business Unit, where he started their credit risk management practice, performed mark-to-market accounting and served as the financial liaison for the organization's commodity trading businesses in Houston, TX and Greenwich, CT.
Jeff earned a Bachelor of Science degree in Accounting in 1990 and a Master of Business Administration in 1995, both from the University of Indianapolis. An avid athlete, Jeff was a college tennis player, has completed 3 marathons, listens to books on tape while he's running (and averages about a book a week), and once made 89 out of 100 three-point shot attempts.