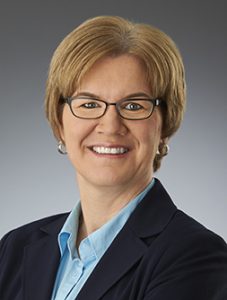 Theresa graduated from the University of Indianapolis with a bachelor's degree in accounting, and has many years of experience working for utility companies including Cinergy and Vectren Corporation. Starting in 2003, she's worked for Wabash Valley Power as Controller, and is responsible for all accounting,  internal & external reporting, and budgeting & forecasting functions. In 2016, she was named as Vice President of Financial Services and also became responsible for overseeing corporate records. In addition, Theresa interfaces with the Board Audit Committee, ensuring that Wabash Valley Power's financial disclosures and regulatory compliance remain transparent and timely.
 Since Wabash Valley Power jointly owns several of our traditional power plants and our joint transmission system with other regional utilities, Theresa serves on numerous committees working together with our partners to discuss and understand financial issues that impact our jointly owned assets.  
 As someone who appreciates working on a small, tight-knit team, Theresa understands the importance of helping to create an inclusive environment at work. One of her favorite things about working at Wabash Valley Power is how the culture of the company encourages sharing new ideas in order to continually improve. It's that type of collaborative approach that Theresa believes has been key to Wabash Valley Power's success in recent years.
Now that Theresa's kids are off on their own, she and her husband are using their free time to relax and travel. She is an avid reader and also enjoys scrapbooking and other crafts.